Happy Birthday To Us! Celebrating 2nd Birthday With All The Beyoungters
It is our 2nd birthday but today we are as excited as a five year old kid.
Yup! I woke up basically singing it in my head, Happy Birthday To Me! Today is our BeyoungBirthEBash but there are lots of gifts for you, as we believe in giving return gifts.
In the last few years, Beyoung has become every shopaholic's one-stop-shop to buy wardrobe-essentials. Starting from 3 people to 100+ Beyoungters, from 10 designs to 100+ uber-cool designs, and from zero to 1 Million Users, and now we are here.
The Journey Of Beyoung.In – An Online Apparel Brand
June 2018, Born To Beyoung: June 2018, Beyoung started a basic website with limited features and designs.
August 2018, Friendship Day: Celebrated Friendship Day with Entire Udaipur.
August 2018, Rakhi Stall: A Small Beyoung Kiosk – Thousands of Happy Faces
October 2018, First Fashion Outlet: for all offline shopping enthusiasts, we step into Beyoung Store @ Celebration Mall, Udaipur
December 2018, Comic-Con, Delhi: Dear pop-culture here we are
Jan 2019, Achieved Milestone: 1 Million Users per Month
Feb 2019, *2nd Fashion Outlet *: Next in Row, Beyoung Store @ Jodhpur
Feb 2019, Beyoung Gets Viral: In February our josh was high and thus our time has arrived with the bestselling Products How's the Josh and Apna Time Aayega.
June 2019, Beyoung Turns 1: Team Celebration, Breathtaking Offers, and Giveaways.
August 2019, New Arrivals & Trendy Designs: On the season of love, we got infin-tee love from our Beyoungster.
Oct 2019, 3rd Fashion Outlet: Next in Row, Beyoung Store @ Udaipur
Dec 2019, Open Mic: Evening Full of Artists, Fun and Lots of Giveaways by Beyoung
Jan 2020, Achieved Milestone: team members 10 to 100+
April 2020, #BeyoungFightsCorona: Free Mask Donation – Raised Employment for Daily Workers & Domestic Workers
You can meet and greet (virtually) the TEAM BEYOUNG.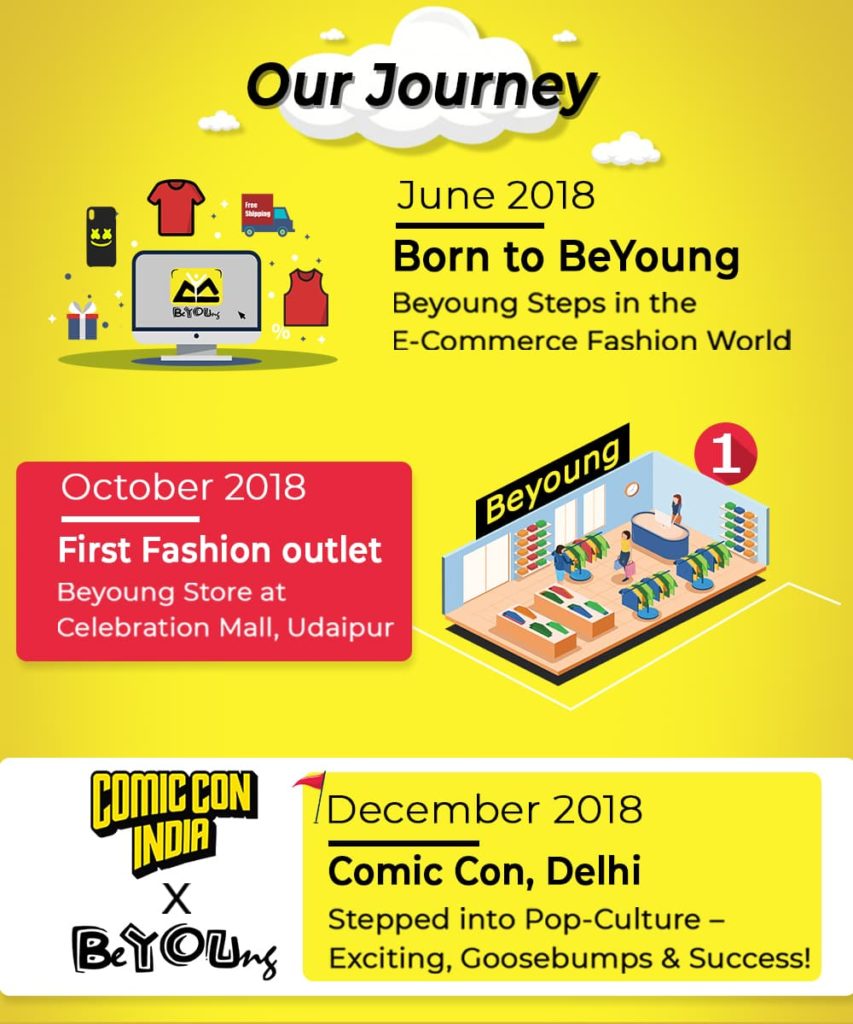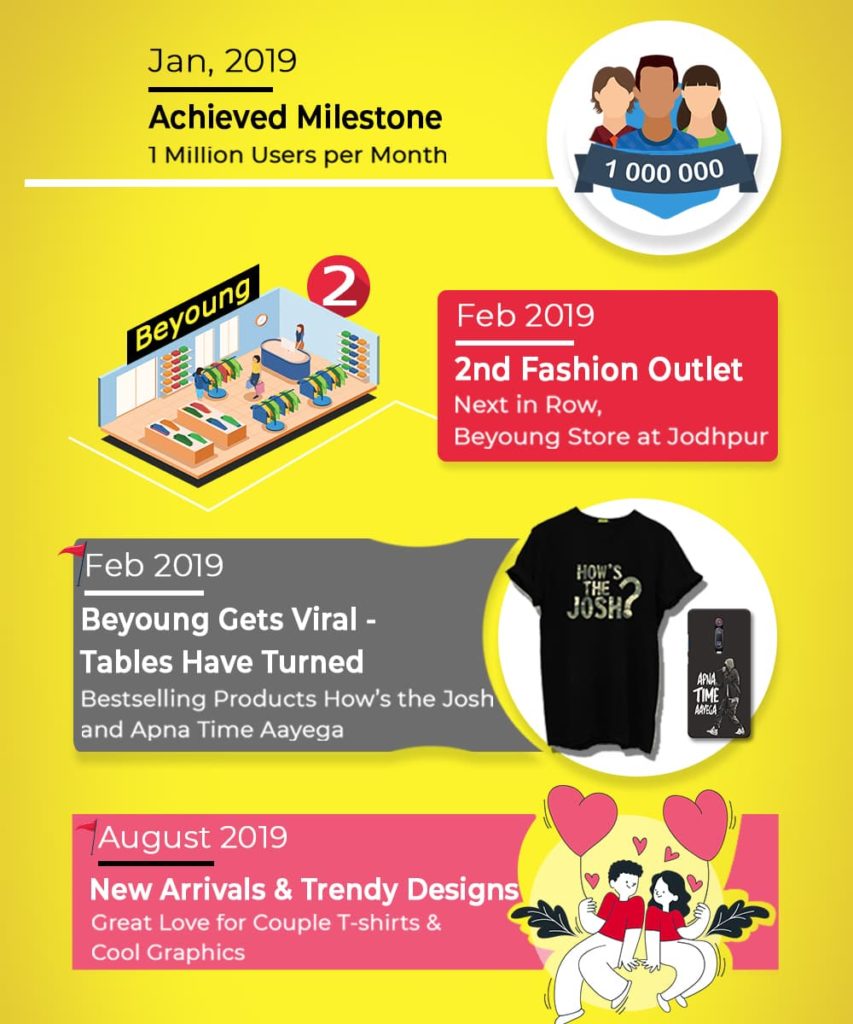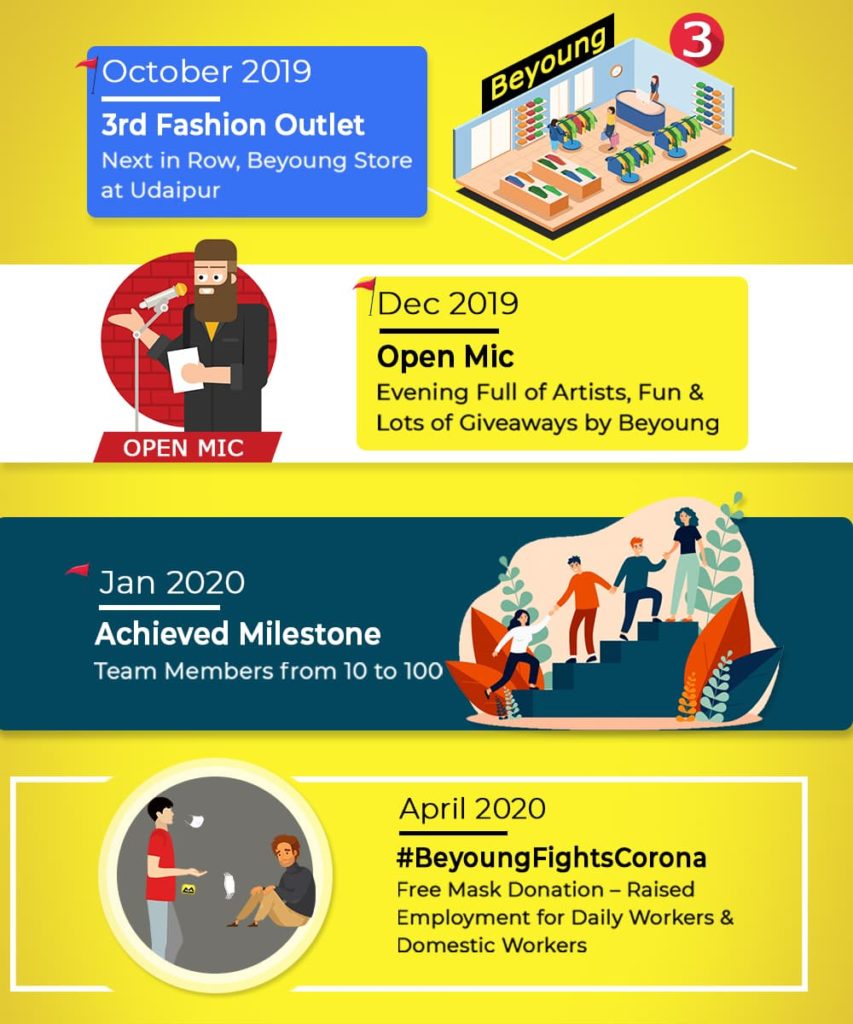 Birthday Game: Guess The Design
The last two years have been amazing for us and for that we want to thank all the Beyoungsters AKA Beyoung family. Thank you for making Beyoung your favorite fashion brand. In the last few years, we felt your love and this year, we want you to feel the same, how? Check all the BeyoungBirthEBash posts on Instagram and participate in an amazing contest and fun activities. We promise you won't regret it.
Once Again Cheers to the entire team of Beyoung and our family members
Kudos Folks!